IPE outdoor parket
An outdoor parquet floor is probably not the first thing you think about when you are (re)decorating your garden. Yet this is a very nice way to give your garden a makeover and to create a terrace with outdoor parquet or a dock with hardwood parquet and give your garden a luxurious look.
Ipe decking with deck fasteners: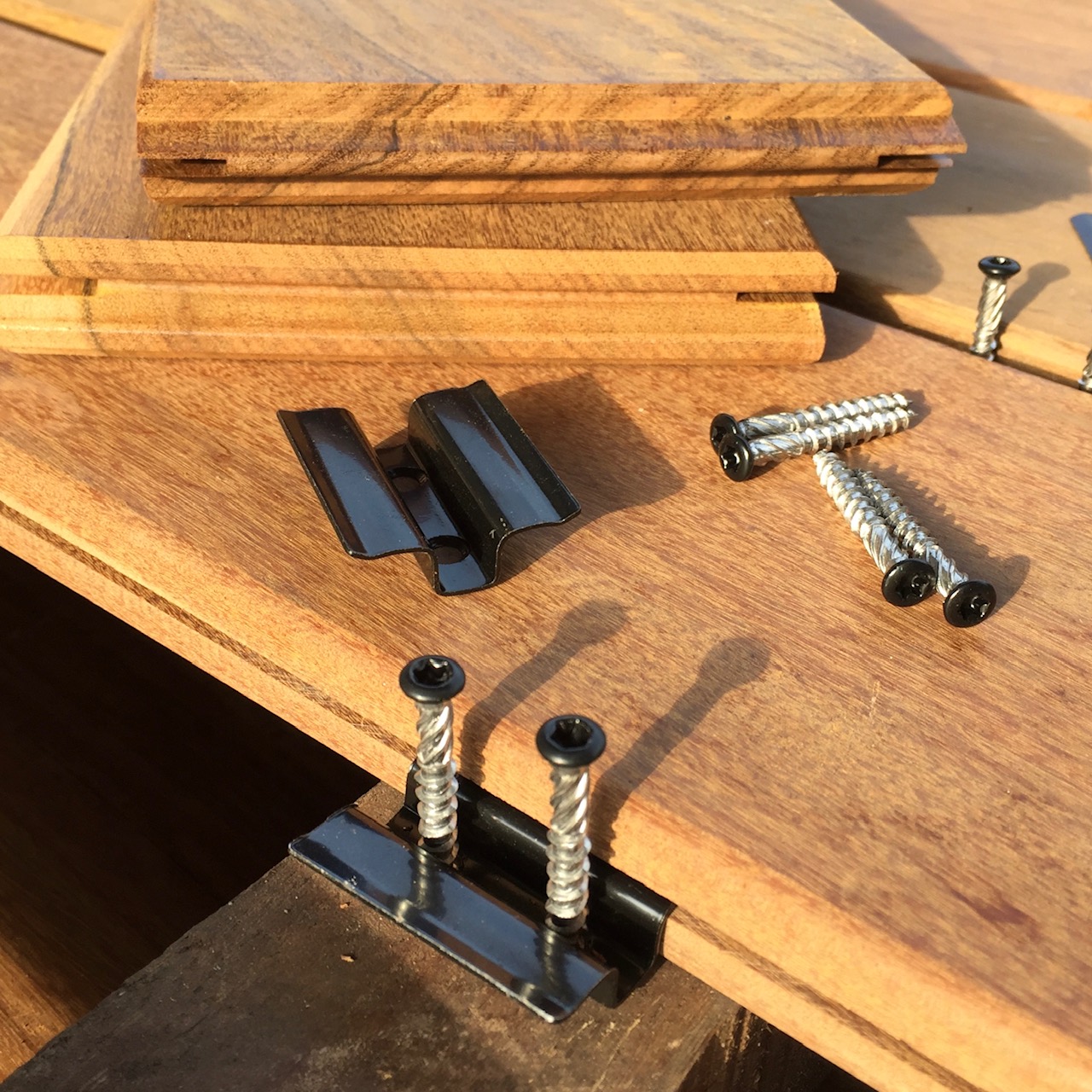 Do you have a swimming pool in your back garden? Then our outdoor parquet is also an ideal material for your terrace. Thanks to the wide choice of outdoor parquet decking you can make the prefect composition yourself. Think of a colour to suit your taste and dimensions that perfectly match the dimensions of your garden. Outdoor parquet offers many advantages. Are you curious what these advantages are and what possibilities there are in the field of outdoor flooring?
IPE hardwood outdoor flooring / Invisible screws
IPE outdoor parquet is one of the most popular wood species for garden use, and not without reason. This unique wood type is FSC certified and belongs to durability class 1 and strength class D60. IPE Wood is especially known for its long lifespan of about 30 years and the unique colour of the wood. This colour can be described as brown with a greenish undertone and a yellow with grey edge. At Hardwood Discount we have a wide range of IPE outdoor parquet and decking boards. Good quality and durable wood is very important to us, so we like to work with IPE wooden outdoor flooring. Thanks to the wide choice of different colours and dimensions, you can decide for yourself what the end result of your outdoor parquet should look like.


Other types of wood
In addition to IPE outdoor flooring, we also supply other types of wood that are not inferior to the popular IPE wood. For example, the Brazilian Bakirai wood, which by its warm dark brown colour with a warm undertone gives warmth and cosiness to your terrace. In addition, there is also a choice of Jatoba wood and Louro wood for the outdoor parquets. Both varieties are also high-quality timbers that are ideally suited to the construction of a terrace or decking. An outdoor parquet can be made of different types of wood. We only work with the best quality wood, so don't be afraid that one type of wood is better than another. The only thing to look out for are the external features such as colour and size.
Prices for outdoor flooring
The prices for outdoor flooring vary according to the type of wood and the dimensions. Based on your preferred wood specie, you can get an indication of the total price for a decking or outdoor flooring. To do this, use the calculator on our website. You can enter the number of square metres and your preferences in terms of layout, profile, ground cloth, edge finishing and more. When you have completed the calculator, it will show a price for your preferences. You can always change these preferences afterwards and the new price will be shown immediately. This way you can compare different preferences and see what it does to the price. Once in a while we have special offers on outdoor flooring. You can then purchase an outdoor parquet floor at even more favourable prices.
order your flooring easily online
Do you want to renew your garden and buy outdoor flooring at Hardhout Discount? Then order easily and quickly all your supplies in our webshop. Compare the different decking boards with each other and find your favourite. With the help of our calculator you can calculate exactly what you need to make the outdoor flooring exactly as you want it. You will also need different materials to lay the outdoor flooring properly. There are variants available with a click system, but also floor boards that have to be secured with screws.
Endless possibilities
Besides installing outdoor parquet, there are many other possibilities for decorating your garden. Think for example of a fence or a canopy. These make your garden complete and ready for the summer. A good base is half the work. Are you curious about a new fence or a black veranda? Then you can always come and visit us in our UK showroom in Hartlepool. Hardwood Discount helps you with all your questions and appropriate advice for decking, shelters and fences. Do you have a short question? Send a message via WhatsApp to one of our employees or contact us via email.