Black kitchen
A black kitchen is stylish, timeless and has a luxurious feel. That's why kitchens in this colour are one of the most popular interior design trends of recent times, especially in combination with a handleless kitchen. Are you looking for a modern kitchen and do you prefer a black colour? Then a kitchen made of steel might be the thing for you!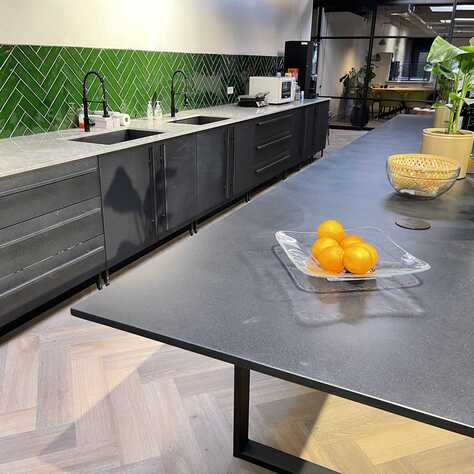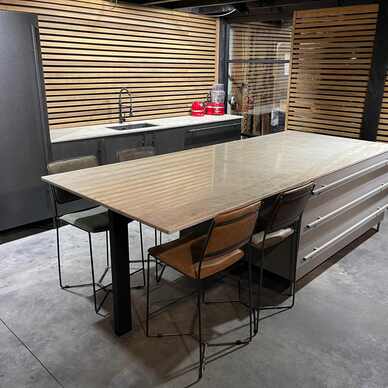 At Hardwood Discount we are happy to help you realise your black dream kitchen. Wondering what we can do for you in the field of indoor and outdoor kitchens? We will be happy to tell you more about our possibilities and the many advantages of a kitchen in a black colour.
THE BLACK KITCHEN FOR ANY INTERIOR
One of the biggest advantages of a black kitchen is that it combines well with almost all interior styles. Whether the rest of your interior is modern, classic, Scandinavian or retro, a black kitchen will always fit in seamlessly with the rest of your home. Because the black colour forms a beautiful base, it is very easy to combine other interior styles and materials with the steel.
For example, a popular combination is a black kitchen with wood. The steel and wood contrast strongly in terms of material and colour, so that together they form a beautiful whole. Especially when wood returns elsewhere in the interior (e.g. a tree trunk table), you bring the whole into balance. But also other materials such as glass, metallic, concrete and marble can be combined endlessly with steel.
DISCOVER THE POSSIBILITIES OF HARDWOOD DISCOUNT
Have you made up your mind and want nothing more than a black kitchen? At Hardwood Discount, we are ready to realize the kitchen of your dreams, for both indoors and outdoors. To best meet everyone's wishes and requirements, we always make a black kitchen entirely made to measure. This way, the kitchen fits perfectly and you can be sure that you are making optimal use of the space. In short: if you are looking for a black kitchen, Hardhout Discount is absolutely the right place.
CONTACT US WITHOUT OBLIGATION
Do you have a question about our modern black kitchens? Or would you like personal advice from one of our specialists? Please feel free to contact the Hardhout Discount advisory team, they will be happy to help you with the right information and personal advice. So you can be sure that you are well informed about the endless possibilities that we offer at Hardwood Discount.
On weekdays by phone or by e-mail at sales@hardwooddiscount.co.uk. It is also possible to send us a message via WhatsApp, also in the evenings and weekends. We will then get back to you as soon as possible with a suitable answer to your question.