IN STOCK -> DELIVERED IN 4 WEEKS
ALWAYS FREE DELIVERY
| | |
| --- | --- |
| Product: | Black steel kitchen |
| Cabinet LxWxH: | 120 x 60 x 90 cm |
| Kitchen top: | 170 cm x 91 cm |
| Coating: | Gray with sparkling flake accent |
| | Wear-resistant indoor and outdoor |
| Assembly: | Quick and easy |
| Quality: | High, very luxurious appearance |
| Lifespan: | Long, 20 years or more |
Free advice and assistance
AdviceTeam Tim, Marco, Tom
and Manon are ready for you
Huefter Design kitchens
We are proud to be the dealer of the fantastic brand Huefter Design. This brand is specialised in steel design articles. Partly because Huefter Design has become our neighbour, this collaboration arose. Under the motto 'together we are strong', we will market their products as main dealer.
Steel outdoor kitchen
Each outdoor kitchen is made by Huefter Design on the highest possible quality level. The strongest and best steel is used. Therefore it is possible to make durable and strong kitchens with very thin cabinet doors and drawer fronts. This is technically impossible with a wooden kitchen. The strength of the steel is used to make strong kitchens with a modern look.
This outdoor kitchen has a greenhouse depth of 60 cm, a total height of 90 cm and a cabinet length of 1.80 cm, whereby the top has an overhang of 50 cm. The total length of the outdoor kitchen and the worktop is therefore 2.30 m1. On both sides there are handles for easy movement of the kitchen, but also in a practical sense, to hang a towel. Because the handles extend 5 cm on both sides, the total length of the kitchen is 2.40 m1.
There are 3 cabinet doors mounted, all with soldide suspension and with soft close. Because of the strong steel, the doors are only 3 mm thick. The handles are in a contrasting colour, again sprilly coated. The sink and the handles on both sides are also coated in a different colour. This creates a beautiful colour palette, and a chic outdoor kitchen.
Steel outdoor kitchens can take a beating, a cast-iron design! Always equipped with enjoyment kitchen tops, weather and dirt resistant. All our kitchens are made of solid steel and are suitable for outdoor use. We do not recommend leaving a kitchen permanently exposed to the elements. It is best to place an outdoor kitchen under a roof or veranda, and when not in use, to cover it with a Huefter cover.
This outdoor kitchen is supplied complete with
- Castors
- Soft close hinges
- Hard stone top
- Tap + water connection
- Sink + water drain
- With sparkling coating
- Large handles left and right
- Cabinet and cabinet doors with small handles
- Optional: built-in 67 litre refrigerator
- Optional: custom-made cover
Handle type
The model in this product is executed with the small handle, almost a handleless result.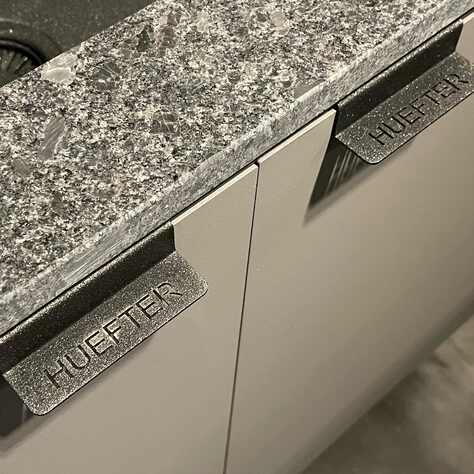 Soft close hinges
Only the highest quality hinges are good enough for a Huefter Design kitchen. Extensively tested and ready for countless uses. Only with a steel kitchen can you use bigger and stronger hinges, which is impossible with a wooden kitchen. Excellent quality and durability is what you choose for when you buy a Huefter design steel kitchen.
Castors under every steel outdoor kitchen
Our steel outdoor kitchens are always fitted with solid black castors, where the rubber of the castors leaves no traces and moves smoothly.
Kitchen worktop
Only the highest quality tops are suitable for a Huefter Design steel outdoor kitchen. The worktop in this product is made of solid granite, it will not discolour or stain, excellent quality as it should be.
Delivery time and assembly
We assemble each module completely before we send it to you, each drawer, cabinet door and shelf is pre-assembled by us. We have all kitchens and outdoor kitchens in stock, which can be viewed in our showroom.
Because a kitchen or outdoor kitchen is never the same, we assemble and colour a kitchen only after it has been ordered by you. This takes time, which is why we have a delivery time of about 5 weeks.
An outdoor kitchen is on wheels, and we deliver it to you with our carrier. Easy to drive on the spot yourself.
A modern steel kitchen, with all elements pre-assembled, can be placed on site by yourself, just level it and you're done.
Did you know?
Due to our expansion, we now own timber warehouses in Belgium, the Netherlands and Germany and the UK.
We have a customer rating in Europe of 8.7 from over 4000+ reviews.
Did you know, that we are also a member of Trustpilot UK. This all guarantees completely safe ordering.