Hardwood decking with deck fasteners
If you are considering a hardwood decking board or terrace, then invisible screwed decking boards are an excellent choice. Not only is this type of decking board inexpensive, but it is also easy to install. With this type of outdoor flooring you save a lot of assembly time compared to the traditional decking board.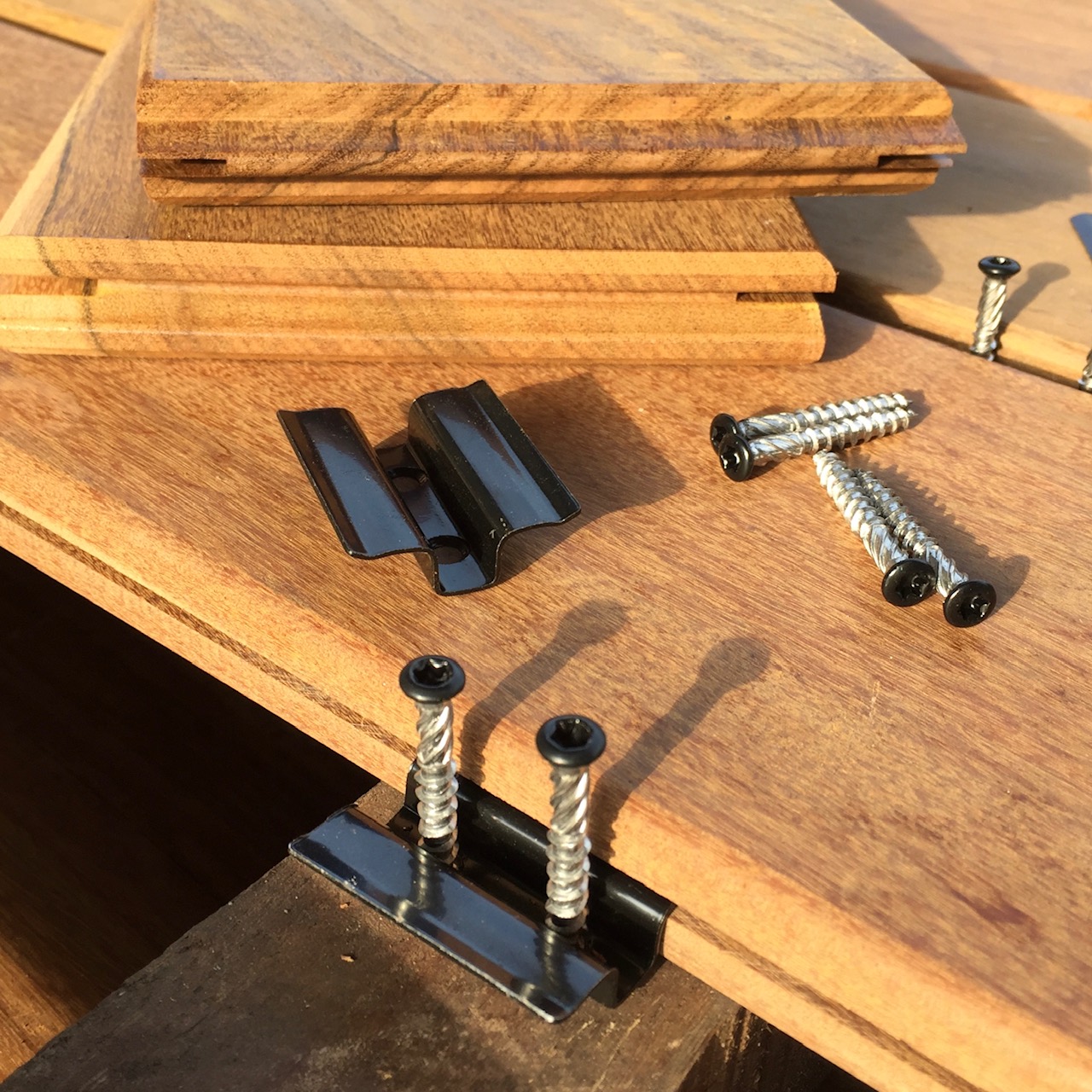 The final result of this type of outdoor decking is even more beautiful than a standard decking board. Unscrewed decking boards are sawn with a so-called spring and groove at the edges of the boards. The decking boards click together easily and can be layed in endless lengths. You can compare it to laying laminate - it's that easy.
Outdoor flooring has the same visual effect as a terrace with longer planks, if these are also laid in a random pattern. All of the planks in an outdoor wood floor have a nice groove when they are pushed together. The result is an attractive transition from one plank to the next. By using different lengths, a nice wild correlation is created with almost no waste. The slats or battening under the outdoor parquet terrace are layed at a centre-to-centre distance of approx. 40 cm.
IPE hardwood
Ipe decking wood, terrace wood, beams or joists? We sell it all. Ipe wood is the best choice of wood. There is no better hardwood than Ipe. This type of hardwood has a long durability, of 30 years or more. Ipe is a very stable hardwood and is therefore suitable for every conceivable application. Ipe is the best wood. That's why we have an extra wide range of this type of hardwood. Ipe has a brown and light brown colour, has a uniform structure and is fine-grained. This wood is hard-wearing, strong and won't move.


Process + wood click system
It's easy to lay each decking board in the longitudinal direction. Each decking board has a so called tongue or groove at the ends, we call this a wood click system. This makes it easy to lock each board into the next one. It's easy to install this product with little experience. This system can be compared to laying a laminate flooring, simple is that.
The ends of the board don't necessarily have to meet at a joist. The click system is strong enough to prevent bending between the joists. During the installation there will always be remaining parts, the cut-off pieces. They can be used if they have a minimum length of 45 cm and the decking board can be fastened to at least 2 joists.
Advantages of the Mounting strips
The mounting clips are slid on the side of the decking board, "in the groove". The mounting clips are mounted on the joists under the surface of the terrace. That way the screws are not visible. The clips also maintain the proper distance between the boards. By using mounting clips there is a gap of approximately 2 mm. This makes it a lot easier to mount. By using these mounting clips, you save a lot of time and it will be a lot easier to mount the hardwood deck.
For a traditional decking board that doesn't have recess for a mounting clip, you just screw straight through the decking boards. It's necessary to pre-drill with a countersink. That way the head of the screw is visible at the surface of the decking board, whereas the screws won't visible when using a mounting clip. The clips and screws are made of inox metal and are black-coated so they won't rust or oxidise with hardwood. This gives an even nicer result.
Price per square metre (m2) + free mounting clips and screws:
We deliver enough boards for you to install the ordered square metres.
For this product you receive free metal mounting clips and special decking board screws + bit. We sell these terrace boards per square metre. Laying the terrace boards in a so called wild bond pattern will give you the best result. See photos for a good illustration of the end result. We always recommend to order approx. 10% more wood, since there is always some cutting waste.
A terrace is meant as a place where you can relax comfortably. When planning your outdoor parquet, be aware of the position in the garden. Determine the right size, it is therefore important to consider whether you'd also like to install a lounge set or a garden table on it. If you opt for a terrace with a garden table, then you usually need extra width than for e.g. a lounge set, this is because when you stand up or sit down at the table, the chair moves back. To prevent the chair leg from getting stuck or sinking into the garden, we advise you to determine the right width. Don't start right away but make several rough plans of your garden, in which you include the outdoor parquet terrace that you want to build. Always make sure to work out several locations in the garden and consider the best location according to your wishes.
In our shop you can choose the wood type that fits the colour the best. Then you not only get a magnificent terrace but after finishing the deck, it will also look as if you have a parquet floor running through the garden. This is why this decking board is called outdoor parquet. Your living room seems bigger and the hardwood gives an extra appearance to the garden. Don't forget to oil or varnish the terrace parts. Otherwise the wood will turn grey after a couple of months.
Are you looking for something else other than hardwood decking boards with hidden screws? Take a look at our steel door or tree trunk table collection.
Easy to order online
Make an easy product choice by using the calculator to calculate the price and by comparing colours of hardwood. Outdoor parquet is simple and easy to order in the online shop. Hardwooddiscount.co.uk is the cheapest online hardwood store for outdoor parquet and other wood products. In our online shop you also find related products, garden gates and various screws. Payment is quick, easy and secure. Pay with Ideal, Visa, Mastercard or with Afterpay. We deliver all the ordered wood on a pallet, delivered by lorry with crane at your door.
Free samples
Would you like to receive a free outdoor parquet sample? This way you get a better picture of the weight, structure and colour of the outdoor parquet board. Or to compare it to the decking board and profile that the neighbours have? You can easily request one for free at Hardwood Discount. Simply request the outdoor parquet sample via our website.
Opening times Hardwood Discount
Hardwood Discount is open each business day from 8:00 until 17:00. Do you have questions? Then contact us via email or phone.