Modern outdoor kitchen
Do you love the outdoors? And would you like to spend as much time as possible outdoors? We understand that like no other! The division between indoors and outdoors is becoming increasingly blurred and we are spending more and more time outdoors. Enjoying a cup of coffee in the black canopy or having a drink under the veranda until the wee hours of the morning, it's all possible! But wouldn't it be even nicer to be able to cook outside? With the help of a Hardwood Discount outdoor kitchen it is possible!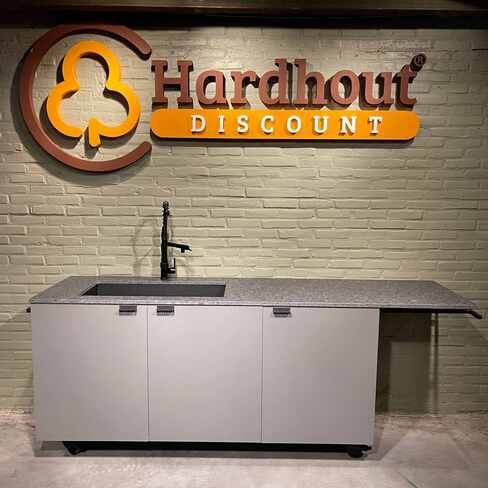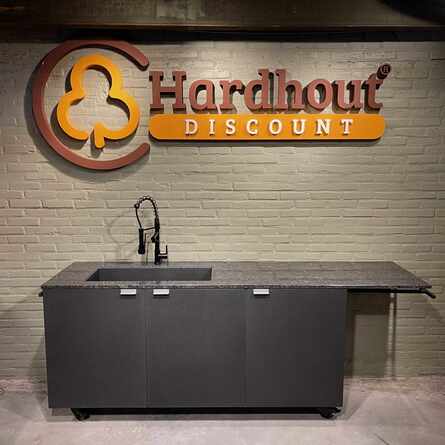 Many people think of a modern kitchen as an indoor variant. But a steel kitchen also lends itself perfectly to placing outside. Ideal if you love the fresh air and good food. Especially when dining with a group of people, it is nice to have a modern outdoor kitchen. If you don't have one, you have to go inside every time to prepare the dishes. By doing so, you miss all the cosiness that takes place outside, and that is of course a great pity. But an outdoor kitchen offers many other advantages in many different situations. And certainly if you choose a variant of Hardwood Discount!
DISCOVER THE OUTDOOR KITCHENS OF HARDWOOD DISCOUNT
At Hardwood Discount you are at the right place if you are looking for a modern custom-made outdoor kitchen (or indoor kitchen). Are you curious about our many possibilities? Please feel free to contact our advisory team, they will be happy to help you.
You can reach us on working days by phone or by e-mail at info@hardwooddiscount.co.uk. It is also possible to send us a message via WhatsApp, even in the evenings and at weekends. We will then get back to you as soon as possible with a suitable answer to your question.