Handleless kitchen
Do you prefer a sleek, modern kitchen with a spacious feel? Then choose a handleless kitchen in black or white in your preferred arrangement. At Hardwood Discount we are happy to help you realise your dream kitchen. Whether it is a white kitchen without handles in a corner unit, or a black kitchen without handles in a U-shape. At Hardhout Discount, we like to think for you to make the best use of the space and to make the kitchen fit your needs as well as possible.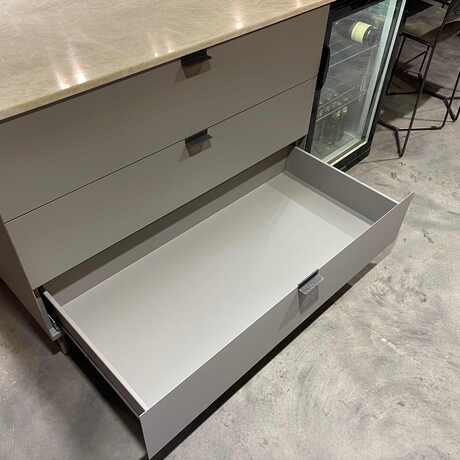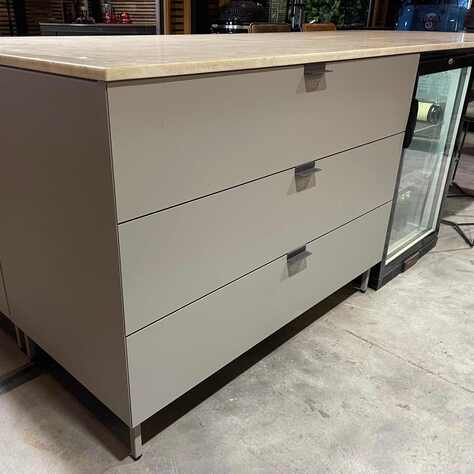 Are you curious about the many possibilities we have to offer? Or would you like more information on the many advantages of a handleless kitchen? We will be happy to tell you more in order to inform and advise you as best we can.
THE WARM HEART IN THE HOME
For many, the kitchen is the warm heart of their home. The kitchen is increasingly integrated with the dining room and/or living room and not without good reason. More and more people are experiencing the many benefits of a kitchen diner. It brings people together and is the eye-catcher of your interior - if you choose it consciously, of course. With a handleless kitchen you know for sure that you have a real eye catcher.
Precisely because the design tends towards the minimalist side, it draws attention without being busy or loud. This is one of the most cited reasons why people love kitchens without handles. But of course, handle-less kitchens offer many other advantages in many situations. Especially when you choose a steel kitchen from Hardwood Discount.
HANDLELESS KITCHENS FROM HARDWOOD DISCOUNT
Have you found the black or white handleless kitchen of your dreams at Hardwood Discount? But you still have a question or would like personal advice from one of our specialists before you finalize your order? No problem at all! The advice team at Hardhout Discount is happy to think along with you. So we can provide you with the right information and specific advice for your situation.
CONTACT US WITHOUT OBLIGATION
Would you like nothing more than a handleless kitchen from Hardwood Discount? Our advisory team will ensure that your dream kitchen becomes reality. This way, you can be sure that it meets all your requirements and wishes. Contact us without obligation and we will be happy to help you further.
You can reach us on working days by phone by e-mail at info@hardwooddiscount.co.uk. It is also possible to send us a message via WhatsApp, even in the evenings and at weekends. We aim to provide you with a suitable answer as soon as possible.